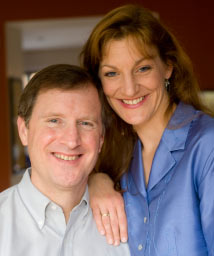 *** We are still meeting with clients during the COVID-19 stay-at-home mandate,
via HIPAA-compliant telehealth services. ***
Mindfulness is a way of grounding ourselves
in the present moment's reality, so that we can see clearly,
embrace life fully, and cope most effectively
with whatever life brings our way.
At The Insight Center, we foster the growth and well-being of our clients by helping them cultivate insight—a type of awareness which allows people to live more freely and make the best use of their own resources. We do this through the therapeutic relationship and through teaching mindfulness—the inherently nurturing and transformative capacity to be more fully aware and accepting of life as it unfolds, moment by moment. We embrace a holistic approach, grounded in the best modern scholarship, and emphasize the integration of mind, body and spirit in maximizing health and promoting personal growth.
> Drs. Christopher and Karen Chroniak, licensed clinical psychologists

Integrative Psychotherapy
for Individuals and Couples
Using a combination of mindfulness and insight-oriented therapies, we help you work through the root causes of problems, as well as deal more effectively with the moment-to-moment symptoms you may be experiencing.
Integrative Psychotherapy helps with:
Anxiety and Panic
Depression
Relationship Issues
Grief and Loss
Self-Esteem
Life Transitions

Calendar of Events


2020

MBSR 8-Week Program


September 19th -

November 14th

Saturday mornings , 9:00am to 11:30am

MBSR 8-Week Program


September 22nd -

November 10th

Tuesday evenings , 6:30pm to 9:00pm

All-Day Retreat


November 7th

All-day retreats are open to all current and past participants in the 8 week program

at no additional charge.

Mindfulness-Based
Stress Reduction (MBSR)
8-Week Program
Relieve stress and physical symptoms brought on by the demands of daily living or medical problems. Learn techniques you can use everyday to have a deeper self-understanding and a healthier, more balanced life. Instruction, in group format, includes:
Mindfulness Meditation
Body Awareness Exercises
Hatha Yoga
In addition to the 8-week program for interested individuals, we offer corporate programs, taught on-site at work and customized for company needs and schedules.
PLEASE NOTE:
I hope to be able offer the MBSR program for the September dates listed above. In the meantime, I am providing mindfulness practices and selected content from the MBSR Program through my podcast,
The Insight Center,
and will upload additional meditations and content on a periodic basis.
Be well, and please stay safe. -
Dr. Chris Chroniak
---